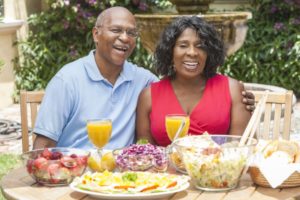 Now that summer is in full swing, you're probably looking forward to all of the backyard barbecues you have planned with your friends and family. If you're like most people, no summer get-together is complete without staples like corn on the cob, steak, and watermelon. However, you might be wondering: is it safe to eat these foods if you recently got dental implants? Keep reading to learn how you can keep your dental implants safe while enjoying classic summer foods.
Eating with Dental Implants
Before you can embrace the unique chewing power that sets dental implants above traditional tooth replacements, you have to wait for the posts to integrate with your jawbone and surrounding tissues. Once this process is complete, though, dental implants essentially function just like real teeth. You'll be able to chew all kinds of tough foods without worrying about them moving out of place like you would with dentures. Dental implants make it easier than ever to maintain a healthy, balanced diet, just like you did before tooth loss.
Which Summer Foods Are Safe to Eat with Dental Implants?
After going through all of the trouble to replace your missing teeth, the last thing you want to do is put your new smile in harm's way. Luckily, it's fairly easy to keep dental implants in good condition while also taking advantage of the numerous benefits they offer. The most important thing to know about eating with dental implants is that you can still enjoy your favorite summer foods, but you may need to slightly adjust the way that you consume them.
Here are some things to keep in mind:
When eating corn on the cob, try to remove it from the actual cob beforehand. Otherwise, kernels could be trapped in your teeth and attract harmful bacteria.
Fruits are a delicious, healthier alternative to processed sweets like cakes and cookies. However, be sure to avoid going overboard on fruits, as they contain acid that can wear down natural tooth enamel if consumed in large amounts.
Vegetables are a great choice for summer foods that are safe with dental implants, especially if you throw them on the grill.
Hot dogs and other processed foods are fine in moderation, but overconsumption can increase the risk of gum disease and, as a result, dental implant failure.
This summer, make sure to protect the investment you made in your smile by eating safely with dental implants. That way you'll be able to enjoy classic summer foods for years, even decades to come!
About the Authors
At Beacon Dentistry, Dr. Thomas Novak and Dr. Garrett Johannsen provide start-to-finish dental implant treatment in Weatherford, TX. They are both committed to keeping up with the latest dental technology and techniques to deliver state-of-the-art care. To learn more about the benefits of dental implants, you can contact them at (817)-594-7302.