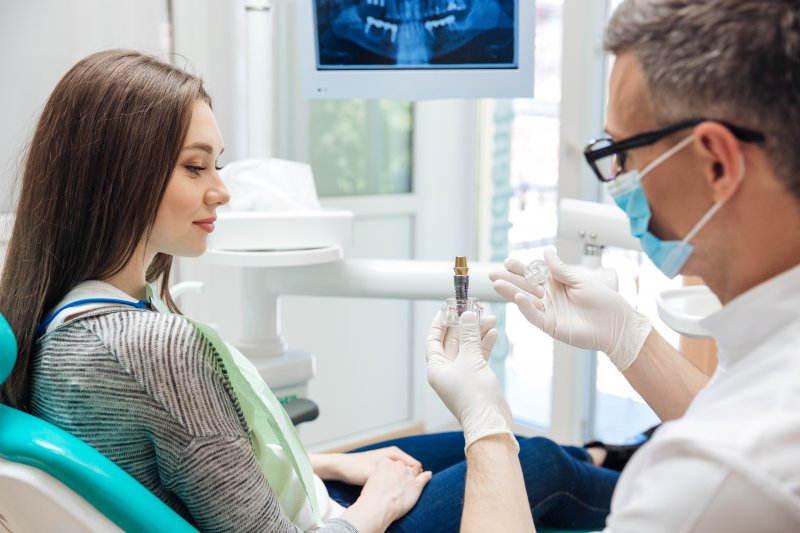 Dental implants have quickly become one of the most sought-after tooth replacements in the dental field today. However, if you've never heard of them before, you may be wondering why dentists are regularly recommending them to replace teeth. Whether you've recently lost a tooth due to severe decay/gum disease or you're looking for an alternative to your stubborn denture, dental implants can offer a viable alternative, and perhaps even a new gold standard for rebuilding smiles. Take a moment to look through the basics of dental implants today!
Dental Implants are Prosthetic Tooth Roots
When it comes to replacing teeth with dental implants, it's not only the visible tooth that's being replaced. The biggest difference between traditional tooth replacement options and dental implants is that dental implants utilize a titanium post that mimics the roots of teeth. This component is what ensures the replacement tooth can withstand regular chewing, tearing, and biting, no matter what foods you consume.
In contrast, bridges and dentures sit on top of the gums, which means they only solve part of the problem that tooth loss creates. Dental implants offer a more complete solution.
They Require Surgery to Place
The prosthetic root of dental implants sits underneath the gum tissue and inside of the bone, which means surgery is necessary for them to be placed. In most cases, surgery for dental implants can be completed in a single appointment, even when multiple implants are necessary to replace teeth.
Since local anesthetic is provided ahead of time, surgery is not that much different than a tooth extraction. At most, slight pressure is experienced during the procedure, not discomfort. However, it's important to take some time to rest afterwards, just like with any oral surgery.
Dental Implants Physically Fuse with the Jawbone
The posts of dental implants are made of titanium, which means they can fuse with existing jawbone without worry of the body rejecting it. This process, known as osseointegration, takes several months to complete. However, it's well worth the wait because the fusion of titanium and bone is precisely what enables dental implants to last for decades and feel natural.
Keep in mind that in most cases, the implant must fully fuse with the bone before it can be covered with a dedicated restoration. While there are exceptions, (i.e. All-on-4 treatment), there will be an open gap in your smile while you wait for the implant to heal.
Better Longevity, Functionality, and Esthetics
Once all healing is complete and the restoration (whether that be a crown, bridge, or denture) is attached, you can expect:
A replacement tooth that lasts for 30 years and longer
Improved biting force
The ability to eat all the foods you enjoy
A natural-looking smile and facial appearance
Easier at-home oral care
No risk for tooth decay (applies only to the restoration)
No shifting or slipping replacement teeth
The best way to learn more about dental implants is by scheduling an appointment with an implant dentist. Not only can they tell you more, but they can confirm your eligibility. Set up a visit today to get started on the process!
About Beacon Dentistry
Dr. Novak and Dr. Johannsen are both highly trained to place and restore dental implants entirely in their office. Their extensive education combined with their practice's advanced dental implant technology ensure the most comprehensive tooth replacement process possible. To learn more about dental implants or schedule an appointment, you can contact them through their website.