Dental Crowns – Weatherford, TX
Seamless Repair for Damaged Teeth
Tooth enamel is the strongest material in the human body – it's even stronger than bone! However, your teeth are exposed to a lot of wear and tear over the years, from daily biting and chewing to sudden injuries to decay. If your tooth becomes seriously damaged or decayed, it becomes vulnerable to painful infections and other dental emergencies. Left untreated, the tooth might even have to be extracted! That's why, at Beacon Dentistry of Weatherford, our dentists can protect and strengthen your smile with dental crowns in Weatherford, TX. To learn more about this method of seamless repair for damaged teeth, call our friendly dental team today!
Why Choose Beacon Dentistry of Weatherford for Dental Crowns?
Fun, Lively Dentists & Team Members
Goop-Free Digital Impressions
Tooth-Colored, Metal-Free Materials
What Is a Dental Crown?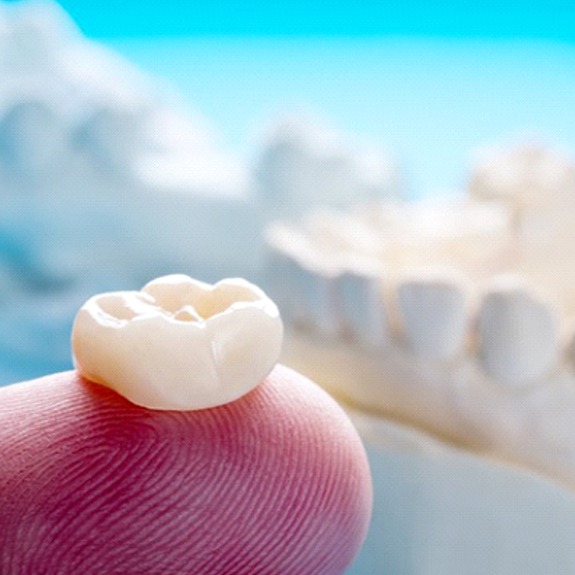 A dental crown is a tooth-shaped restoration that is tailored to fit over the biting surface of your tooth, or the part that sticks out from the gums. Traditionally, crowns have been made from various metals, such as gold and silver. As durable as these materials are, they stood out like a sore thumb in your smile. For that reason, we typically recommend metal-free, tooth-colored materials like porcelain, which can be customized to blend in with the rest of your pearly whites.
You might be surprised to learn how versatile dental crowns are. We may suggest a crown for a tooth that:
Is broken and needs to be held together.
Is badly decayed to the point that it cannot support a filling.
Has just undergone root canal therapy.
Has been replaced with a single dental implant.
Has been replaced with a dental bridge.
Is severely discolored, misshapen, or has other aesthetic flaws.
Depending on your circumstances, we'll walk you through your treatment options and make sure you have all of the information you need to decide whether you want a dental crown. Your dentist in Weatherford will also discuss any cosmetic desires you may have so that we can ensure your restoration looks just the way you want it to.
The Dental Crown Process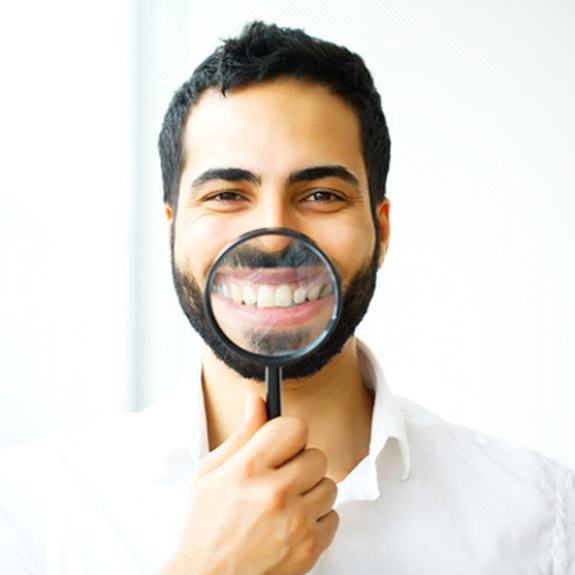 Typically, getting a dental crown involves multiple appointments and several different steps:
Our dentists examine your mouth, determine whether a dental crown is the best way to restore your oral health, and outline the process for you before you make your decision.
We remove a small layer of enamel from the tooth that will receive the crown. This ensures the restoration will fit perfectly within your smile.
We take impressions of that area of your mouth and send them to a trusted dental lab in the area. Until then, we place a temporary crown to shield your tooth.
As soon as your permanent crown arrives at our office, we'll schedule your second appointment, where we'll remove your temporary and cement your permanent one into place.
The Benefits of Getting a Dental Crown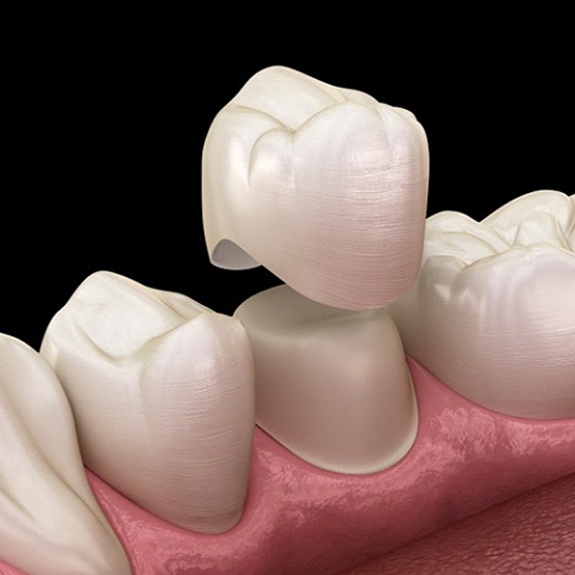 There are plenty of reasons to repair your smile with a dental crown in Weatherford. After all, they can:
Help you chew comfortably again.
Protect your natural tooth from further damage that might require an extraction.
Blend in perfectly with your surrounding teeth.
Feel fully natural in your mouth.
Last for 15+ years with good oral hygiene.
Dental Crowns FAQs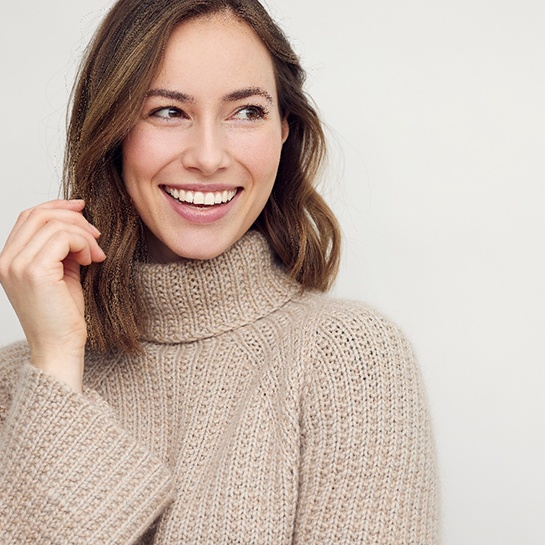 If you have one or several decayed or damaged teeth, then you might benefit from dental crowns in Weatherford. These custom-crafted porcelain restorations are designed to protect and improve your pearly whites while blending in with the rest of your smile. Though you may be aware of their benefits, you may be curious to know more about the treatment before committing to it. Our team at Beacon Dentistry of Weatherford has collected and answered some of the most common questions we get about dental crowns to help make finding your answers easier. Feel free to give us a call today if you don't find the information you're looking for!
Does It Hurt to Get a Dental Crown?
As with many dental treatments, we'll numb the area in your mouth that we'll be working on so that you're as comfortable as possible. Most patients will simply require a local anesthetic, especially for more intensive procedures. Our team can also provide dental sedation for those who are feeling moderate to severe anxiety about their visit. While your affected tooth will be numbed during the preparation phase, it may not be necessary when we place the final crown. After your appointment, you may experience mild sensitivity for the following few days. This can be managed easily with over-the-counter pain relievers and rinsing with lukewarm water to help alleviate discomfort.
Are Dental Crowns Permanent?
Since you'll eventually have to replace your dental crowns, they aren't considered permanent. The only irreversible part of this treatment is the preparation phase, as your enamel will not regenerate on its own. This means your affected teeth will always need to be covered with a dental crown moving forward. However, your restorations will be a long-lasting solution for rebuilding decayed or damaged pearly whites. By practicing proper oral hygiene, maintaining a healthy lifestyle, and visiting us for checkups regularly, you can expect your dental crowns to last around 5 to 15 years!
How Do You Know When a Dental Crown Needs to Be Replaced?
The best way to be certain that your dental crown needs replacement is through an examination by your dentist. That said, you can also watch out for the following symptoms that indicate your need for a new restoration:
Instability: If your crown feels weak or loose, especially when chewing something sticky, reach out to us as soon as possible.
Damage: Not only can a stained or chipped crown impact the appearance of your smile, but it can also negatively affect the strength and function of your restoration.
Pain: You may experience discomfort if your underlying tooth is decayed, which will require your dental crown to be removed so that we can address the issue.
Dark line at the base of the crown: If you have porcelain-fused-to-metal crowns, then you may notice the outer layer wearing down and exposing the darker metal underneath. This can indicate a replacement is imminent.
Do Dental Crowns Get Cavities?
A dental crown cannot get a cavity like natural pearly whites. However, you'll still need to clean your smile thoroughly, as the underlying tooth can be just as vulnerable to decay as your remaining teeth. To avoid complications, practice proper oral hygiene every day to keep bacteria and plaque at bay. Be sure to address the gum line where your tooth meets the restoration so that you can cover the base. Additionally, you can protect your smile by scheduling routine visits with your dentist and sticking to a well-balanced diet.