Implant Dentures — Weatherford, TX
Achieve the Strong, Stable Smile You Deserve
Are you frustrated with your removable dentures? You're not alone. Even though today's dentures are more durable, lifelike, and comfortable than ever, they're still a far cry from a full set of natural pearly whites. Many patients get tired of having their dentures slip out of place at embarrassing times, or irritated at how different it feels to eat with them. Fortunately, at Beacon Dentistry of Weatherford, we can help you achieve the strong, stable smile you deserve with implant dentures in Weatherford! This revolutionary tooth loss solution offers results that are just as reliable and functional as natural teeth. Give us a call today to schedule your next appointment and discover if they're right for you!
What Are Implant Dentures?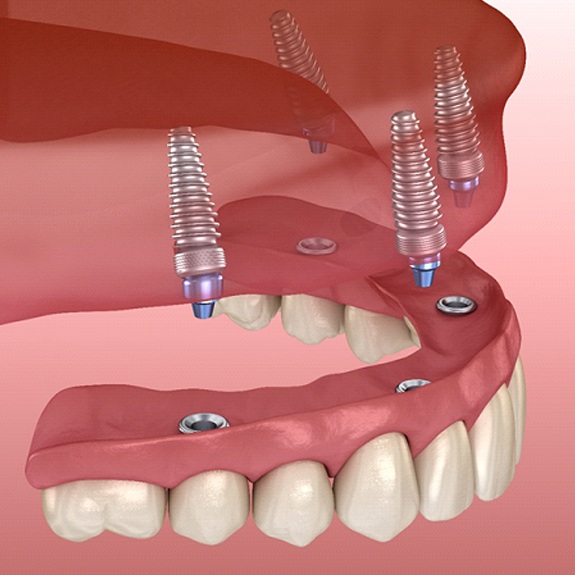 On the surface, implant dentures look very much like their traditional removable counterparts. They feature an acrylic, gum-colored base with a full set of replacement teeth embedded in them. However, implant dentures are held in place with dental implants, just like how natural teeth are anchored by their roots. Dental implants are small metal posts that are positioned in the jawbone, where they fuse and create a stable foundation. Then, a denture is placed on top of them. Depending on your oral health and preferences, we may recommend one of the following:
Fixed/Permanent Implant Dentures
Like their name suggests, permanent implant dentures are fixed in place and designed to only be removed by a dentist. This means you'll wear them for 24 hours a day, seven days a week, treating them just like a natural set of teeth!
Removable Implant Dentures
Alternatively, removable implant dentures can be snapped onto and off of the dental implants in the mouth. You'll be able to take them out for thorough cleanings whenever you need to. This type of implant denture typically requires fewer dental implants.
The Implant Denture Procedure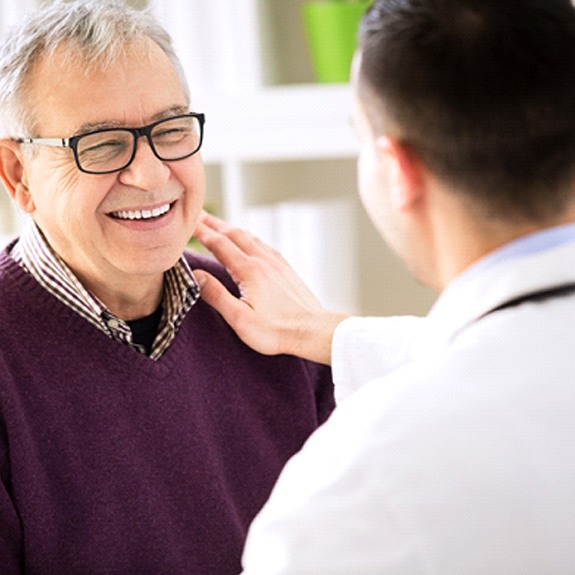 First, you'll visit us for a consultation to ensure implant dentures are right for you. We'll determine if you need any preparatory procedures like gum disease treatment and help you decide which type of implant denture would best suit your needs. Then, we'll perform a minor surgery wherein we'll place several dental implants into your jawbone. These will heal over the next four to six months and integrate into the bone tissue. Then, you'll return to our office to have your custom-made denture put in place!
Am I a Candidate for Implant Dentures?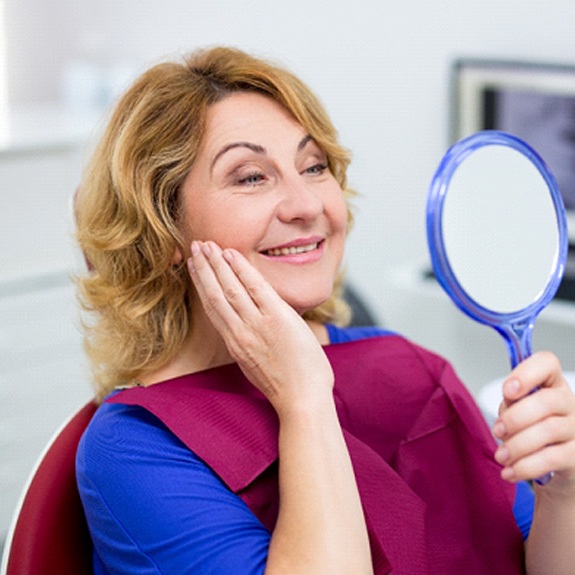 You may be a candidate for implant dentures if:
You're frustrated or tired of your traditional removable dentures
You are in good enough health for minor surgery
You are free of oral health issues like gum disease
You have adequate jawbone density, or are willing to undergo a bone graft
Even if you are not initially a good candidate for implant dentures, we may be able to help you get on track for a new smile with preparatory procedures.
Benefits of Combining Dentures & Dental Implants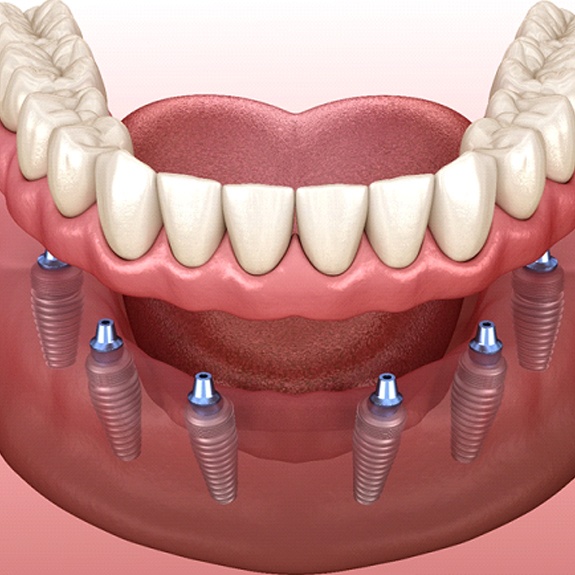 Implant dentures offer a wealth of important benefits, such as:
Jawbone support, which prevents deterioration and an aged facial appearance
Eat all your favorite foods again with 80% or more restored biting power
Smile confidently knowing that your implant dentures will never slip out of place
Say goodbye to gum irritation and hello to better oral health
Keep your new smile clean with easy maintenance
Save thousands of dollars on replacements alone
Enjoy your new smile for a lifetime with the right care