Dental Bridges – Weatherford, TX
A Simple, Effective Way to Complete Your Smile
Whether you're missing one tooth or even several in a row, tooth loss can take a serious toll on your day-to-day life. Eating your favorite foods and showing off your smile are often challenging. Luckily, our team at Beacon Dentistry of Weatherford can seamlessly fill the gap with a customized dental bridge in Weatherford, TX. If you're interested in a simple, effective way to complete your smile, contact us to set up a consultation and find out whether a dental bridge is just what you need!
Why Choose Beacon Dentistry of Weatherford for Dental Bridges?
Energetic, Family-Friendly Dental Office Environment
Dentists with Decades of Experience
Dental Implants Placed In-House
What Is a Dental Bridge?
A dental bridge is a restoration that is personalized to bring back a specific number of missing teeth. It can replace a single lost tooth, but we may also recommend a bridge for patients who have lost up to four consecutive teeth. A bridge consists of two dental crowns with one or more artificial teeth called pontics strung between them. Depending on the type of bridge you receive, we can secure these crowns onto either your remaining teeth or dental implants, enabling the pontics to "bridge" the gap.
Like dental crowns, bridges can be made from various materials, but we typically use porcelain here at Beacon Dentistry of Weatherford. Porcelain is not only durable, but so lifelike that other people shouldn't even be able to tell the difference between your bridge and your natural teeth!
Types of Dental Bridges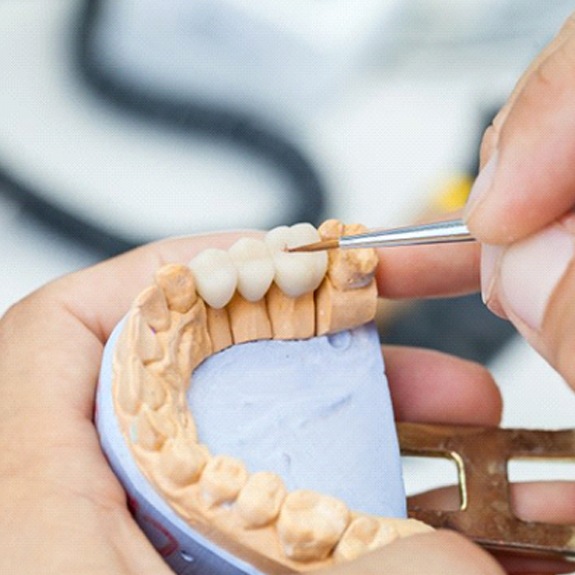 The state of your oral health is the primary factor that affects which of the two types of dental bridges your dentist in Weatherford will recommend.
Traditional Dental Bridge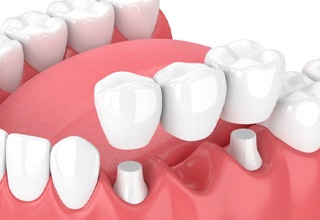 If the remaining teeth on either end of the gap are healthy, then we can place a traditional dental bridge. These two teeth, known as abutment teeth, will have to be reshaped slightly so that the restoration can fit. Traditional bridges only take a couple of appointments to place. Plus, they don't require oral surgery, and they typically cost less up front.
Implant Bridge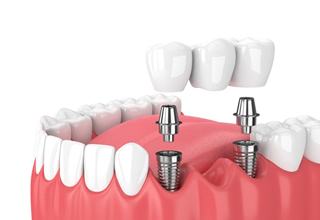 If three or more teeth in a row are missing, then we can anchor a bridge onto dental implants. One or two of these small titanium posts are surgically placed into the jaw, where they merge with the bone and function just like tooth roots. They keep the jawbone healthy and strong by preventing the bone loss that occurs after teeth have gone missing. Dental implants tend to last much longer than bridges alone, making an implant bridge a more cost-effective investment in the long run.
The Benefits of Getting a Dental Bridge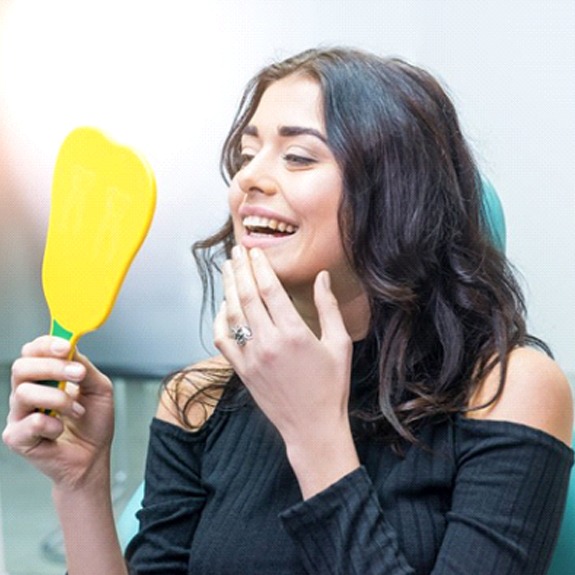 A conventional dental bridge is an affordable and relatively simple way to fill the gaps left behind by missing teeth. It lets you chew, speak, and smile with ease again. It also prevents your remaining teeth from drifting out of place, a common occurrence after tooth loss that could result in tooth decay, orthodontic issues, and other oral health problems.
When your bridge is supported by dental implants, you'll enjoy all of the above benefits and more. For one, none of your natural tooth structure will have to be removed since implant bridges are self-supporting. You won't experience bone loss in your jaw, and you'll be able to chew with virtually all of the strength that your natural teeth had.
Dental Bridges FAQs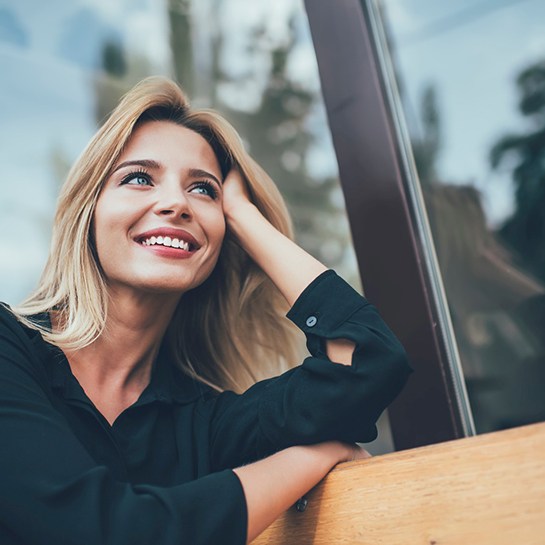 Are you missing a couple of teeth or multiple consecutive ones? If so, then dental bridges in Weatherford may be the answer for restoring your smile. These porcelain restorations can close any gaps between your pearly whites, returning the full look and function of your teeth for many years to come. Before committing to any procedures, you may want to know as much as you can about what to expect from the treatment. That's why our team at Beacon Dentistry of Weatherford is happy to share several of the most frequently asked questions we get from our patients about dental bridges. Read on or reach out to us if you wish to learn more today!
Do Dental Bridges Feel Natural?
Your newly placed dental bridge should start to feel increasingly natural within several days after your appointment. Since it'll be constructed out of porcelain dental material, you can expect it to withstand the immense pressure from chewing just like your remaining natural teeth. This means you'll be able to enjoy your favorite meals like normal. Your dental bridge will also be specifically designed to fit your bite pattern, so your restoration should blend seamlessly with the rest of your smile. If you notice anything off or awkward about your new teeth, be sure to contact us right away for help.
Is Getting a Dental Bridge Painful?
Our team will numb your mouth with a local anesthetic before starting any work on your teeth, that way you remain comfortable throughout your procedure. Once we've prepared your pearly whites and placed the bridge between them, your underlying teeth will potentially feel mildly sensitive for the following few days after your appointment. This sensation is usually short-lived and can be handled by taking over-the-counter pain medication. Also, your restoration will prevent your other teeth from drifting out of position, which can help you avoid discomfort in the future. If any uncomfortable sensations persist or worsen over time, make sure to call us as soon as possible.
How Many Teeth Can a Dental Bridge Replace?
While the exact number will depend heavily on each person's situation, dental bridges can replace anywhere between one to four consecutive missing teeth. In general, however, most patients use these restorations to replace one or two pearly whites. The longer a bridge extends, the less stability it has in the long run. This is especially crucial if the natural teeth used to support the restoration aren't healthy or strong enough. If this is a concern, then you may consider getting implant bridges instead to lower this risk, as they'll be anchored directly to your jawbone for a more reliable foundation.
Can Dental Bridges Get Cavities?
Although a dental bridge itself will not develop cavities, the underlying teeth supporting it can still be susceptible to decay. Not only can bacteria slip through the space where the crowns meet the gums, but debris and food particles can also get stuck beneath the pontics. If left unchecked, this can allow harmful bacteria to thrive and increase your risk of cavities or even periodontal disease. For this reason, you'll want to maintain proper dental hygiene, specifically cleaning under and around your bridge for the best results!