Dental Implants – Weatherford, TX
The Ultimate Solution to Tooth Loss
Has tooth loss made your smile incomplete? Is it difficult to eat the foods you used to enjoy or do you avoid speaking in general because missing teeth have affected your speech? Answering just one of these questions should trigger a phone call to Beacon Dentistry. Not only can they make your next visit a fun and relaxing one, but they have the advanced training and expertise to ensure a successful and productive implant treatment. Call the dental office today to schedule a consultation to discuss replacing missing teeth with dental implants in Weatherford, TX!
Why Choose Beacon Dentistry for Dental Implants?
Fun and Family-Friendly
Dental Office Environment
Advanced Training in
Implant Treatment
Implant Placement and
Restoration Available
What is a Dental Implant?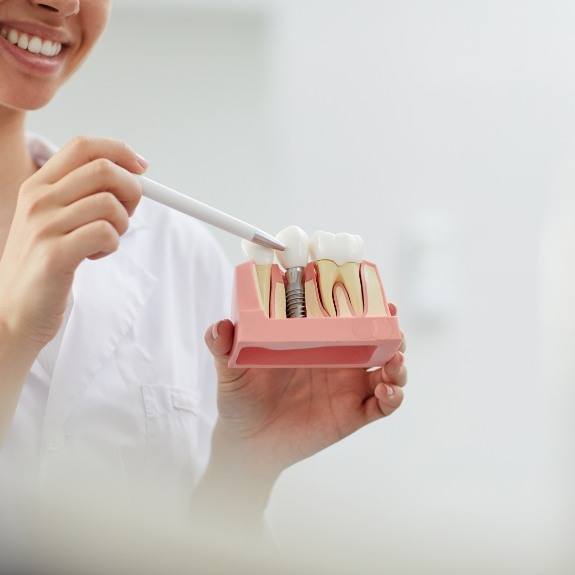 Teeth are incredibly strong and durable, but sometimes they can fall out as a result of dental disease. When they do, they take the tooth root right along with them, which is an important part of your overall tooth's structure. With dental implants, we replace both the root and the crown, ensuring a comprehensive approach to long-lasting tooth replacement. Once the implant is placed, you won't even be able to recognize the difference between your natural and implant tooth!
How Dental Implants Work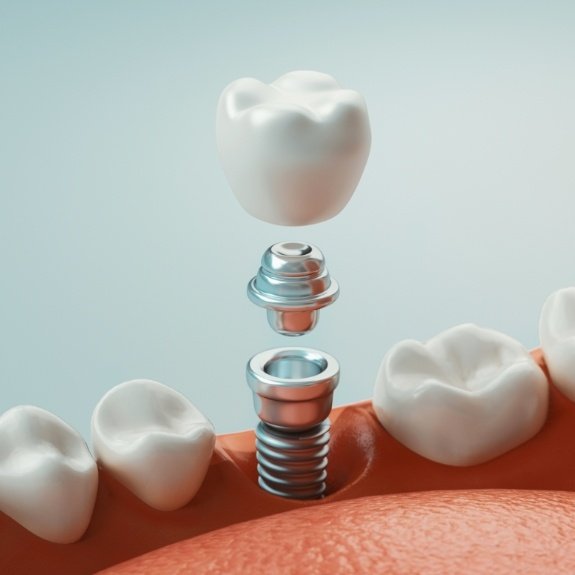 Our patients love their dental implants because of the newfound confidence it gives them to smile and chew the foods they enjoy. At Beacon Dentistry, our dentists will either place your implant(s) in-house or partner with a local specialist if needed. During the surgical portion, we create a small incision in your gum tissue and place the implant directly into your jaw. After sealing the gums, we give it several months of time to heal, then place a healing cap on top. This acts as a foundation for the permanent crown that comes later. Your treatment length can vary, especially if you're replacing teeth with a 3-unit bridge rather than a single tooth implant.
Benefits of Dental Implants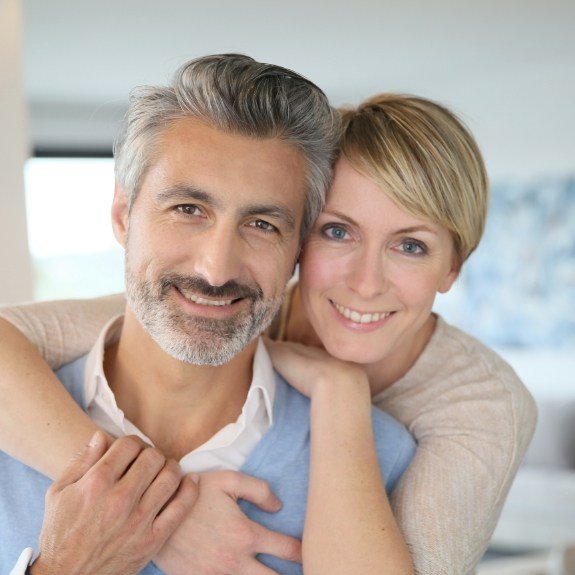 Whether you're comparing them to dentures or dental bridges, there is simply no other option that replaces teeth quite like dental implants. Not only do you replace your teeth to the fullest and secure the best looking tooth possible, but you can expect true longevity, durability, and functionality moving forward.
Additionally, dental implants have a 95 percent success rate, even after 10 years of use! This means you can maintain a youthful appearance, improve your biting force for eating the foods you enjoy, keep your jawbone's shape intact, and enhance your overall health in the process. Dental implants are also incredibly easy to keep clean; simply practice daily brushing and flossing and make sure to visit our dental office every six months for a routine checkup. They are even cost-effective compared to other solutions thanks to their long-term benefits, so you won't have to worry nearly as much about repairing or replacing them like other options.
Are Dental Implants Right for You?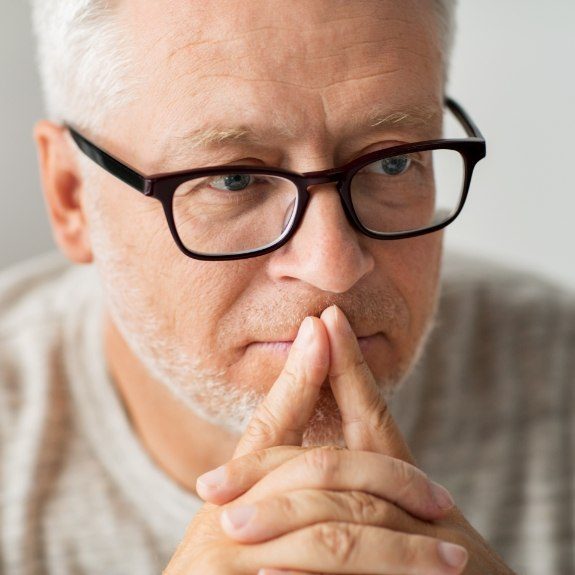 Once we complete your consultation, we'll have a far more detailed picture of exactly what needs to be done to restore your smile. Whether you need to replace single, multiple or all of your teeth, Dr. Johannsen and his crew can make it happen!
Missing Single Tooth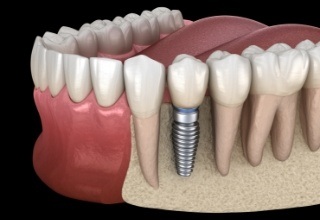 With a single implant, porcelain crown, and abutment to attach them together, we can restore your tooth to the absolute fullest. Once the implant has completed the healing process, we can begin designing your permanent crown. Dr. Johannsen always uses tooth-colored restorations to keep your smile looking as beautiful as it is functional.
Missing Multiple Teeth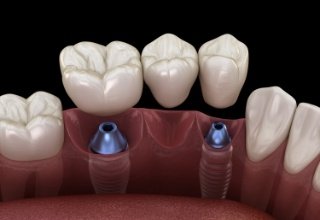 If you have multiple missing consecutive teeth, you're in luck. Our dental office can restore your smile using a pair of dental implants and an implant-retained bridge. The crowns on either end are affixed to their own dedicated implant, while a crown is fused in between them to fill the gap in your smile.
Missing All Teeth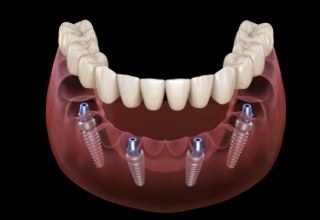 When an uncomfortable denture just gets in the way, dental implants can make a huge difference. After strategically placing a series of dental implants throughout the jaw, your next denture, whether it's full or partial, is sure to feel more natural, stable and be longer-lasting. You can even get your smile restored the same day as your surgery when you choose All-on-4, a revolutionary treatment for those dealing with severe tooth loss.
Understanding the Cost of Dental Implants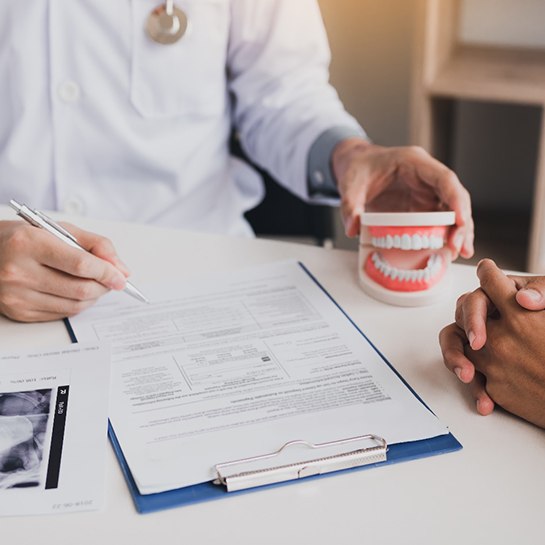 If you are put off by the cost of dental implants, keep in mind that they actually have the most cost-effective price thanks to their longevity and the fact that treatment does not involve modifying additional teeth. In a way, you truly get what you pay for when you choose to replace teeth in this way. While the cost of your treatment will vary on factors like the number of implants placed and whether or not you need preparatory treatments to make them viable, Dr. Novak and Dr. Johannsen will help build a treatment plan that fits your budget. If you're ready to get rid of the gaps in your smile for good, give our dental office a call!
Preliminary Treatments & Dental Implant Surgery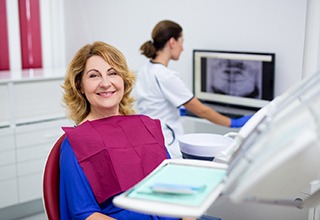 In some cases, preparatory treatment may be necessary, especially if there is dental disease already present. For example, gum disease therapy to treat infection or decayed teeth that need removal will increase the total cost.
In addition, surgery carries its own cost and can increase or decrease depending on the number of implants that need to be placed to rebuild your smile. Since we perform the entire procedure in-house, your fees will be more compact overall, rather than spread across different offices.
The Parts of Your Dental Implant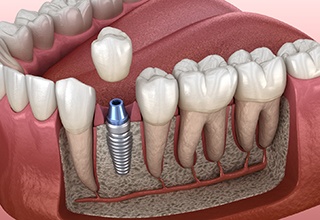 The more implants you need, the higher the cost of materials will be to replace your teeth. This includes materials like titanium, which make up the root portion of your dental implant. They can also vary in cost depending on who makes them and the models they provide. Our office is happy to go over where we receive our dental implants from and why you can have confidence in their ability to remain healthy following your surgery.
Final Dental Implant Restoration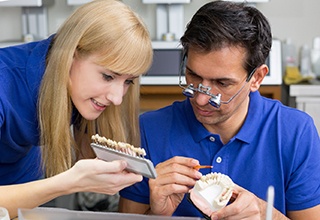 If you need a more complex restoration to make your smile complete, the more expensive the overall cost of your treatment will be. For example, a single crown placed on one dental implant will be substantially more affordable compared to a bridge attached to a pair of dental implants or a denture attached to a series of dental implants throughout the mouth. Our restorations are designed to not only last, but look incredibly natural, meaning no one but you and our office will know you had dental implants placed.
Does My Dental Insurance Cover Dental Implants?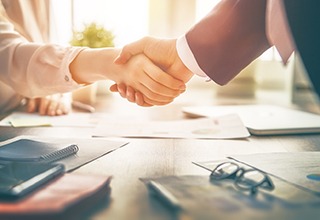 Dental insurance is generally not used for dental implants because insurance providers don't usually offer coverage. However, there are some exceptions when it comes to the treatments necessary to make dental implants viable. We're happy to go over them in greater detail as we have years of experience maximizing insurance benefits for patients. Keep in mind that if phases of your treatment are covered, it will only be at a specific percentage.
Making Dental Implants Affordable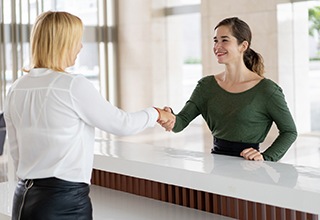 Don't have dental insurance? You can still make your tooth replacement with dental implants affordable with the help of other financing options. This includes CareCredit, which allows patients to pay for treatments over the span of several months, typically with little-to-zero interest attached to these installments. That means fitting even the more expensive treatments into a tight budget can be possible.
Alternatively, enrolling into our Beacon Dentistry Savings Plan is a great way to save on care, especially if you don't have dental insurance. Not only are you guaranteed a specific set of treatments when you sign up, but you can expect discounts on many other treatments, including dental implants and implant-related services!