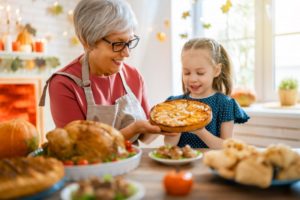 The holidays are a time to gather with your family and friends, make memories, take photographs, and eat delicious food. If you are one of the millions of Americans who suffer from tooth loss, the thought of all these things can cause you to feel dread when it comes to Thanksgiving. Fortunately, dental technology has made it possible for your cosmetic dentist in Weatherford to give you the gift of enjoyable eating with dental implants this season. Keep reading to learn more!
Dental Implants Can Give You More to Be Thankful For
Dental implants do much more than improve your smile. If you're looking forward to laughing with family and friends or enjoying a slice of pumpkin pie, here are three things you could be grateful for this season thanks to dental implants:
Dental implants keep your oral health intact. One of the things that sets dental implants apart from other tooth replacement options is their impact on overall oral health. Because the implant is fused directly with the jawbone, new bone growth is promoted over time. This helps to strengthen the jawbone, stabilize the surrounding teeth and gums, and preserve facial structure.
The options are practically limitless! Savory foods are just part of the package when it comes to Thanksgiving, but if you have one or more missing teeth, enjoying some of your favorites like nuts or even ham and turkey might be more challenging than it's worth. Dental implants restore your ability to bite and chew. Although you'll still want to be careful when it comes to hard treats, you can finally eat with ease again!
Your smile will make you feel proud. Are you tired of feeling self-conscious when someone wants to take a photo with you? Maybe you haven't been able to enjoy a hearty laugh with your friends and family in years for fear of them seeing your missing tooth. Get your confidence back this year so that you can be proud of your smile this holiday season.
Whether it's an improved smile or the ability to enjoy your favorite holiday treats again, give yourself more to be thankful for this year! Talk to your dentist in Weatherford about dental implants.
About the Practice
Dr. Tom Novak and Dr. Garrett Johannsen lead the team of cosmetic dental experts at their private practice in Weatherford. With years of experience perfecting smiles, they love to help restore their patients' confidence with the gift of dental implants. Both doctors value knowledge and have prioritized continuing their education in the field of dentistry. Are you ready to look forward to the holidays again with a full set of teeth? Schedule a consultation online, or call (817) 594-7302.