Dental Team – Weatherford, TX
Get to Know the Crew!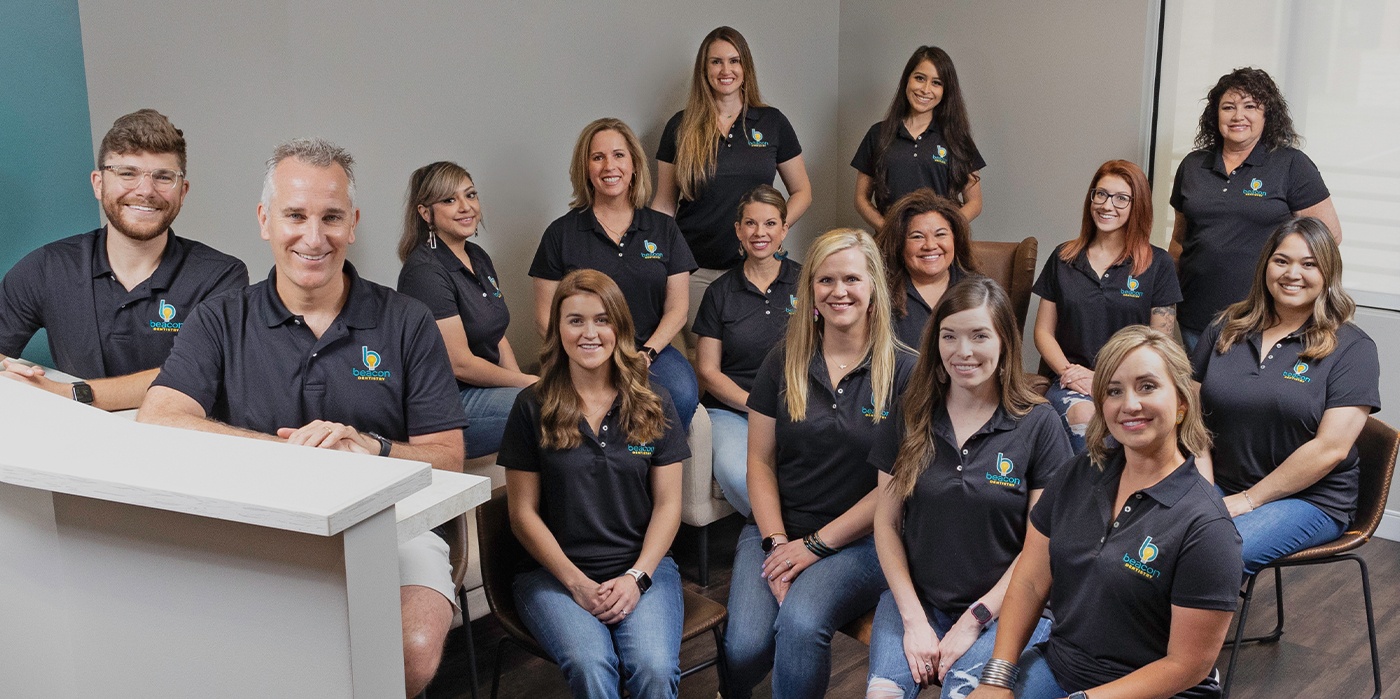 We know how to have fun here at Beacon Dentistry of Weatherford, and that's obvious thanks to our hardworking team of hygienists, dental assistants, treatment and insurance coordinators, and dental office administrators. They play a major role in ensuring the best customer service and dental care experience possible. Without them, Dr. Novak and Dr. Johannsen wouldn't be able to provide the level of care that they do. To get to know them better, you can read their bios below!
Front Desk TeamHygiene TeamDental Assistant Team
Front Desk Team
Karen – Financial Coordinator
With over 30 years of experience in the dental world (thanks to being Tom's wife), Karen is a true expert at getting to know patients and making connections that stand the test of time. She also loves all her teammates – they keep her engaged and laughing constantly! Over the decades, she's become very talented at managing Tom and helping him do his best work possible, whether he's hippity-hoppity, perky, or just plain crabby.
Karen and Tom have been married since 1989; today, they have four kids and two dogs. As a pair, they're always up for good food, good wine, and most importantly, good friends. Regarding hobbies, she loves cooking all kinds of different meals, from Kimchi fried rice to Congee to a nice chimichurri. There's not much that's out of bounds! She also regularly serves as a cantor at church and sings for weddings and funerals, all without any formal training.
Linda – Office Manager
Linda hails from Miles, and she studied dental assisting at UTSA. Today, her experience in the world of dentistry covers over 17 years! As our office manager, she really enjoys getting to know each patient and building such meaningful relationships with them.
Linda and her husband David have been married for nearly 25 years. They have two kids and more importantly, a precious granddaughter. When she isn't busy at work, her favorite hobbies include spending quality time with loved ones, going to estate sales, and antiquing.
Jenny– Treatment Coordinator
Jenny joined Beacon Dentistry of Weatherford in 2021, and her goal is to make getting the happier, healthier smile you deserve as seamless as possible. She loves being a part of such an incredible team and looks forward to coming to work every day. In addition to being extremely friendly, she is also bilingual in English and Spanish, making it easy for all of our patients to communicate their needs to our office.
Jenny comes from a very large family, and she and her husband stay very busy keeping up with her 21 nieces and nephews! On the weekends, you'll often find her taking hikes and doing pretty much anything outdoors, though she also likes to curl up with a good book, listen to true crime podcasts, and relax with her chihuahua, Nina.
Emily - Hygiene Coordinator
Emily has spent her whole life right here in Weatherford – she even went to Weatherford High School! Currently, she loves her job because it means she gets to see people every day in our amazing, ambitious, and vivacious office. Hearing everyone's different stories and walks of life is one of her favorite aspects of her job as well.
Emily and her family have deep roots here in Weatherford, which is why she has such a passion for this town and the people who reside here. When she isn't hanging out with her loved ones, traveling, and adventuring, you can find her volunteering at the Weatherford Parker County Animal Shelter. She's been a volunteer for nearly a decade now!
Katrina – Patient Coordinator
Born in Landstuhl, Germany, Katrina has been working in the dental field for several years and counting. She first started her career by attending Weatherford College before attending Texas Dental Academy to become a Registered Dental Assistant. Today, she loves being able to help patients take the first leap in undergoing the care they need to achieve their dream smiles.
Outside of the office, Katrina spends much of her time with her husband, their three boys, and their two Labrador Retrievers, Leo and Ali. She deeply enjoys hanging out outside with her family, and winter is her favorite time of the year. One fun fact about her: she loves watching musical theatre shows!
Hygiene Team
Lauren – Dental Hygienist
Lauren became a member of the Beacon Dentistry of Weatherford family in 2018. As for education, she completed her Bachelor's at Angelo State and her ADH (Associate of Dental Hygiene) at Tarrant County College. She is originally from the San Angelo area.
At home, Lauren and her husband are the proud parents of three fur children (AKA dogs) and enjoy staying active in everyday life by traveling, exercising, and spending time outdoors. At the moment, they're working on training their dog Bennie to become a therapy dog!
Lorie - Dental Hygienist
Lorie became a member of our team in 1997, and she's been working in dentistry for 29 years overall. After attending San Jacinto College, she pursued her dental degree at UT Health Dental School of Hygiene. She is also certified in laser dentistry and ICAT-trained. Her favorite part of her work is helping people!
Originally from Deer Park, Lorie is married to Rick; Lorie has two sons, a daughter-in-law, and a granddaughter. Her hobbies outside of the dental office include gardening, sewing, and spending time with her friends and family.
Leslie - Dental Hygienist
Leslie is relatively new to our team, but her overall career in the dental world spans two full decades so far! Here at Beacon Dentistry of Weatherford, she couldn't ask for a better group of people. She loves her coworkers, has great conversations with patients, and thoroughly enjoys the diversity of every day, all while performing a service that's so uniquely designed for each individual. She struggled with serious dental-related fear as a child and a young teen, so that's definitely made her more understanding of other people's anxieties when they come in for an appointment.
Originally from Muenster, Leslie is the proud mom of Kennedy and the wife of Art, a United States Marine Corps veteran. They also have the most adorable dog at home: a Goldendoodle named Millie. In her spare time, she really enjoys hanging out with her four nephews, hiking, skiing, traveling, puzzling, curling up with a great book, or going on spontaneous adventures.
Shayla - Dental Hygienist
Born and raised in Texas, Shayla chose to pursue her studies at the University of Arlington and Sanford Brown College. In addition to having more than six years of experience in the world of dentistry, she has undergone extensive training in child growth and development as well as sleep apnea. Since joining our team, she has thoroughly enjoyed helping people with their oral health while building meaningful relationships.
Outside the office, Shayla is a wife, aunt, and pet mom. As a Texas native, she loves the Dallas Cowboys and even worked at the stadium for seven years! When she isn't cheering on her favorite team, she enjoys binge-watching shows and traveling.
Courtney – Dental Hygienist
Courtney has worked in the dental field for over five years. She completed her dental hygiene degree at Concorde Career College. She enjoys helping patients improve their dental hygiene by educating them in techniques to improve their smile and gain confidence.
Courtney is originally from the DFW area and has lived in Weatherford since 2019. She enjoys the outdoors and spending quality time with her husband, Sam, their daughter, Colette, and two dogs, Beast and Hendrix.
Dental Assistant Team
Alisa – Registered Dental Assistant
Alisa's dental career amazingly spans over 37 years and she's been working alongside Dr. Novak since 1996! A Weatherford native, her favorite part of this job is an easy answer: the amazing patients.
Alisa and her husband Steve have one daughter and one son-in-law and most importantly, a new granddaughter. In her free time, you can usually find her working on various arts and crafts or gardening.
Kirsti - Registered Dental Assistant
Kirsti has been working in world of dentistry for over a full decade now, and she loves helping our patients and their families feel genuinely comfortable at Beacon Dentistry of Weatherford! She attended Weatherford College and Remington College for her education. She's also undergone advanced training in dental implants, the TRIOS intraoral scanner, and iCat technology. Whenever there's a question about computer anything, Kirsti is our go-to resource.
Kirsti is originally from Weatherford, and her lovely family consists of Branson (her husband), two daughters named Rylee and Addison, and two dogs named Jake and Gracie. When she isn't busy caring for patients, her favorite hobbies include exercising, going to church, and spending lots of quality time with her loved ones.
Angelica - Registered Dental Assistant
Angelica was born and raised in Mineral Wells! Today, she loves being a part of an incredible team, meeting new people, and interacting with patients. She joined our practice at the beginning of 2021 and has her CPR certification.
Outside the office, Angelica enjoys spending time with her husband and their two children. One thing you may not know about her is that she is bilingual!
LaDawn - Dental Assistant
With an impressive 14+ years of experience under her belt, LaDawn joined our team in 2021. Originally from Brock, Texas, she attended Howard College. She enjoys coming into work each day because it means she gets to build relationships with her patients, talking to them and treating them like family. Seeing their confidence transform on their smile journey is extremely rewarding for her!
LaDawn has a husband, Jimmy, and two children, Preston and Kinsley. Family is the most important thing to her, which is why she loves going on trips with them. She also enjoys BBQ'ing, attending various church activities, camping, and making people smile!
Erica – Dental Assistant
From Mineral Wells, Erica has over a decade of experience in the dental field. She started her journey by attending Weatherford College before studying at Remington College. During her education, she was able to achieve her certifications in dental assisting, nitrous oxide, and CPR. Now, she's able to help people care for and maintain their dental health, allowing them to be happy with and proud of their smile.
Outside of dentistry, Erica loves being with her husband and their four beautiful children. Together, they enjoy sports throughout the year as well as being active outdoors, as one of her kids participates in football. On her own, she likes to train at the gym to be on top of her fitness and read whenever she has a chance. One cool fact about her: she can leg press close to 600lbs!
Miranda – Dental Assistant
Miranda was born and raised in Weatherford and has nearly a decade of experience and counting. She started her career in dentistry by studying at Weatherford College and Tarrant County College. She went on to earn her Certificate in Dental Assisting and has been working hard ever since. Her favorite thing about her job is being able to connect with patients and help others achieve the beautiful and healthy smiles they deserve.
When she isn't at the office, Miranda is spending time with her wonderful husband, Ryan, and their two daughters. With her love of nature, she enjoys being outdoors and gardening. One interesting thing about her: she's left-handed!