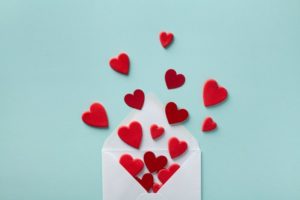 Boxes of chocolate and candy conversation hearts are just a couple of the sweet treats you probably think about when it comes to giving your Valentine a gift. While they might be tasty, they can wreak havoc on your loved one's teeth. This year, consider giving them some tooth-friendly Valentine's Day gifts that your Weatherford dentist recommends to keep their teeth and heart happy.
Five Dental Friendly Valentine's Day Gift Options
Giving gifts of chocolate and other various sweet candies has long been a Valentine's Day tradition, but here are a few other options that you can give your Valentine to keep things fresh and protect their oral health:
Solid Dark Chocolate
You might be thinking "wait, I thought candy was a bad idea?" Dark chocolate contains around 2 grams of sugar, as opposed to its milk and white chocolate counterparts that have between five and six grams per serving. If your loved one is a "choco-holic," don't deprive them this Valentine's Day. Try dark chocolate to ease the craving and be kinder to their teeth.
A Gift Card for Spa Treatment or a Massage
There are very few people who would turn down the opportunity to enjoy a paid-for spa or massage treatment. Not only will this gift help your valentine avoid oral issues, but it will benefit their overall physical and emotional well-being as well.
A Brighter Smile
Studies show that an alarming 80% of Americans wish they had whiter teeth. If your partner is among these millions, then what better gift to give them than the confidence that comes with professional teeth whitening? Your dentist uses state-of-the-art products and procedures that have proven track records to produce successful and lasting results.
Fruit
Plenty of companies offer Valentine's arrangements in the form of fruit baskets and trays. If your sweetie has a "sweet tooth," consider fruit as an alternative to candy.
Plants or Flowers
What better way to say, "I love you" than with a gift that keeps on giving? Instead of candy, give your valentine some beautiful flowers or a plant they can care for. That way, each day when they see them, they'll be reminded of your thoughtfulness.
This Valentine's Day, get creative with the gifts you get your significant other so that you can take care of their heart and their teeth!
About the Practice
If you're searching for a dentist who will care for you like you're family as well as prioritize your dental health, then look no further than the private practice of Dr. Thomas J. Novak. His passion is to help his patients achieve and maintain the smiles of their dreams by teaching them how to properly care for them. He is voracious about his education and continues to further it so that he can grow his skills and expertise. To schedule an appointment, visit us online or call (817) 594-7302.