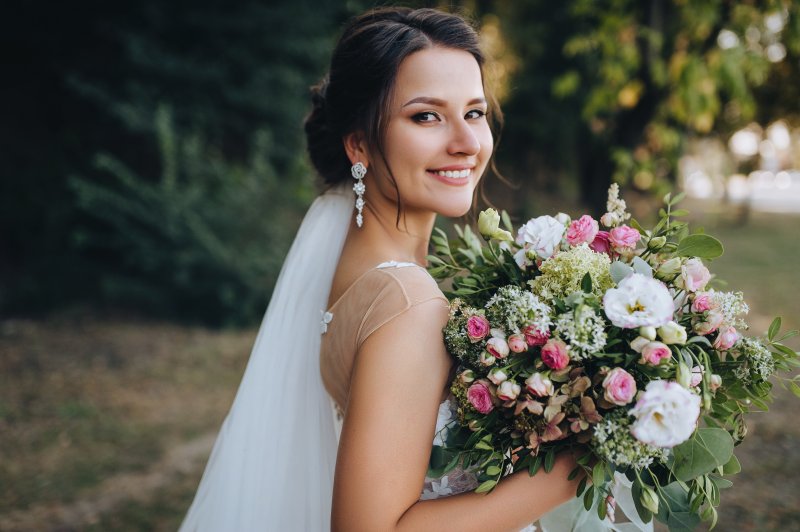 In almost slow motion, you watch the love of your life get down on one knee and pull out the ring. After saying "yes" and calling your loved ones, it is time to start planning your wedding. Quickly, your calendar becomes jam-packed with venue tours, wedding dress shopping appointments, engagement photos, and everything else that comes with planning your ceremony and reception. However, there is still one important thing on your mind: improving your smile. After all, wedding festivities involve a lot of picture-taking! Read on for three ways a cosmetic dentist can help you have a camera-ready smile for your special day.
#1. Metal-Free Restorations
Years prior, metal restorations were the leading choice in repairing damaged or decayed teeth. However, the dark spots left behind were extremely noticeable, resulting in many patients feeling self-conscious about their smile or laugh. Fortunately, patients today can opt for a tooth-colored alternative that effectively restores your smile seamlessly. That way, no one will ever know what happened to your tooth!
#2. Direct Bonding
Do you have a small chip, crack, or gap in your teeth? Then direct bonding may be the solution you're looking for. By gradually applying thin layers of composite resin, your dentist can correct minor imperfections in as little as one hour. Plus, newer materials are more stain-resistant, which means you can enjoy your beautiful smile on your honeymoon and well after!
#3. Porcelain Veneers
For patients with multiple cosmetic concerns, including discolored, chipped, or slightly misaligned teeth, porcelain veneers are the ideal solution. Not only can it correct a number of aesthetic issues in one treatment, but they can fix one, a few, or an entire arch of teeth! Additionally, they can last 15+ years, act as a teeth whitening treatment, and be completely customized to your smile.
When your wedding dress is on, your hair and makeup are done, and you are ready to say, "I do," the last thing you want is to feel self-conscious about your smile. To ensure you will thoroughly enjoy your day and soak up every minute of happiness, talk to a cosmetic dentist today about correcting imperfections in your smile!
About the Author
Since graduating with honors from the University of Illinois College of Dentistry, Dr. Thomas J. Novak has earned "Top Doc" honors from his service with the U.S. Navy Dental Corps, obtained a Fellowship with the Academy of General Dentistry, and become an active member of multiple notable organizations (including the American Dental Association). For nearly three decades, he has helped countless patients achieve their smile goals with a number of cosmetic treatments. If you are interested in improving your smile for your wedding, don't hesitate to visit his website or give him a call at 817-594-7302.