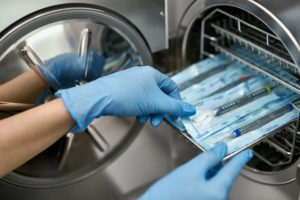 The ongoing threat of COVID-19 has caused many patients to consider how their dentist in Weatherford is sanitizing treatment rooms and dental instruments. This is a completely valid concern that makes sense, given how COVID-19 and other illnesses are spread. Read on to learn how dental practices are disinfecting instruments between patients and why you can feel safe and comfortable visiting your dentist again. ß
Sanitation Guidelines Followed By Your Dentist For Your Safety
Dental practices are being held to the highest possible standards of disinfection during the COVID-19 crisis and following strict guidelines from the CDC, OSHA, and the EPA. By doing this, they're able to prioritize patient safety and wellbeing while also continuing to provide high-quality dental care throughout the pandemic. These sanitation guidelines ensure that and saliva or blood-borne pathogens aren't spread from patient-to-patient and the environment in which they are being treated remains sterile.
Sterilizing Dental Suction Devices
You may notice that every time you get your teeth cleaned, your dentist whips out and uses a suction device that keeps you from feeling like there's saliva building up in your throat. Not only does this instrument help you feel more comfortable, but it also limits the plume of harmful aerosols that leave your mouth when you get your teeth polished.
After your cleaning, you may wonder how something so immersed in saliva is able to be thoroughly disinfected. These types of gadgets have single-use components to make sure that no germs or bacteria are transferred from one patient to the next. For example, this suction device has a replaceable tip that is thrown out after each patient. The handle and remaining areas of the device are then easily sanitized before a new suction tip is placed on the tool.
Disinfecting Dental Instruments
Dental instruments, including mirrors, scalers, and forceps are all sterilized according to the ADA's recommendation of using pressure and heat. Autoclaves sterilize equipment with high-pressured, saturated steam. They are placed in special sterilization pouches and set in the autoclave for a certain period of time. The pouches have a window that changes colors to indicate to the dental assistant or hygienist when the instruments are completely disinfecting.
Keeping the Treatment Room Safe
Between patients, your dentist will also thoroughly disinfect and sanitize the chair and surrounding surfaces to make sure that every item that you come into contact with during your appointment is completely germ-free. During the COVID-19 pandemic, dentists are even allotting additional time between patient appointments to make sure that every item is thoroughly sanitized, even ones that weren't near a patient's mouth.
If you're concerned about visiting your dentist in Weatherford during this crisis, don't hesitate to contact their office and learn more about their sanitation practices. This can help reassure you that your safety and health are their top priority.
About the Author
Dr. Thomas Novak has been practicing dentistry for over two decades and remains passionate about helping his patients optimize their oral health and take care of their natural pearly whites so they last a lifetime. He offers comprehensive dental care and is an active member of several professional organizations, including the American Dental Association. For questions or to schedule an appointment, visit his website or call 817-594-7302.