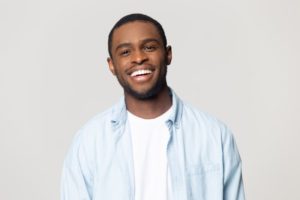 If you have broken, weakened, or worn-down teeth, dental crowns in Weatherford are an excellent choice to restore your smile. These versatile, tooth-shaped caps can correct a number of cosmetic flaws while strengthening and protecting the tooth underneath. With the proper care, your dental crown can keep your smile beautiful and functional for many years to come. Here are five tips from your Weatherford dentist to extend the lifespan of your newly fortified tooth.
Tip #1: Avoid Sticky & Hard Foods
Dental crowns are incredibly strong, but they're not indestructible. Chewing on hard foods can chip or crack your crown, while sticky items may loosen it. For the health of your dental crown as well as the rest of your smile, try eating more cheese, lean meats, fruits, and vegetables instead.
Tip #2: Practice Good Oral Hygiene
While your dental crown is immune to cavities, the tooth underneath it is not. If bacteria, plaque, or food particles become stuck between the crown and your gums or the neighboring teeth, they may find their way to the vulnerable tooth. To prevent decay and infection, be sure to brush and floss regularly.
Tip #3: Stop Bad Habits
Do you chew on ice, open bottles with your teeth, or bite your fingernails? These bad chewing habits can quickly damage your natural teeth as well as your dental crown. To protect your smile and your new investment, only use your teeth to chew on food.
Tip #4: Use a Night Guard
If you wake up with headaches, sensitive teeth, or a sore jaw, you may have a condition known as bruxism. This is where you clench your jaw or grind your teeth in your sleep. Over time, your weakened teeth and dental crown may break. Your dentist can spot the evidence of this dangerous habit and create a custom night guard to protect your smile as you sleep.
Tip #5: Get Regular Dental Checkups
It's not always easy to closely inspect your dental crown or the area around it, so you may miss warning signs of issues like damage, decay, or infection. If you see your dentist every six months, they can help you spot and stop any problems as early as possible. More importantly, regular dental checkups and cleanings are the best way to prevent these troubles from developing in the first place!
Your new dental crown doesn't require any specialized cleaning or care, but treating it properly can significantly extend its lifespan. Use these simple tips to enjoy your beautiful, functional, and complete smile for years to come!
About the Practice
Dr. Thomas Novak and Dr. Garrett Johannsen of Weatherford, TX are dedicated to helping you achieve a smile that looks and feels its best for a lifetime. They design custom-made crowns that can fix a variety of issues, including bite problems, gaps between teeth, and misaligned teeth. With high-quality dental porcelain that's shaded to match the rest of your smile perfectly, they can make your teeth look brand-new! If you have more questions about caring for your dental crown, feel free to contact them via their website or at (817) 594-7302.