Dental Implants – Weatherford, TX
The Ultimate Solution to Tooth Loss
Has tooth loss made your smile incomplete? Is it difficult to eat the foods you used to enjoy or do you avoid speaking in general because missing teeth have affected your speech? Answering just one of these questions should trigger a phone call to Beacon Dentistry of Weatherford. Not only can they make your next visit a fun and relaxing one, but they have the advanced training and expertise to ensure a successful and productive implant treatment. Call the dental office today to schedule a consultation to discuss replacing missing teeth with dental implants in Weatherford, TX!
Why Choose Beacon Dentistry of Weatherford for Dental Implants?
Fun and Family-Friendly
Dental Office Environment
Advanced Training in
Implant Treatment
Implant Placement and
Restoration Available
What is a Dental Implant?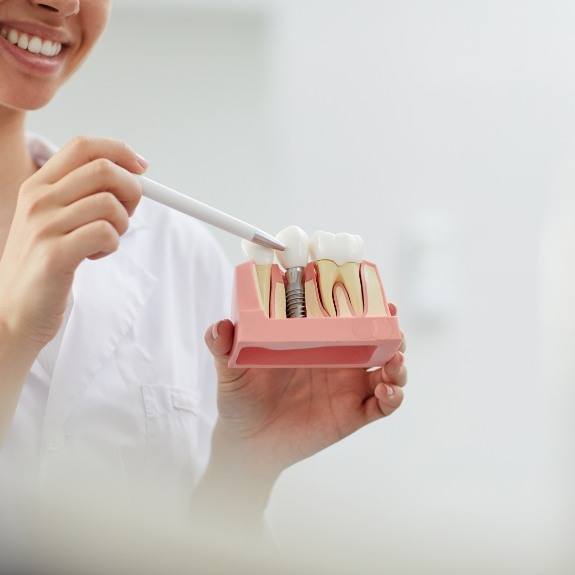 Teeth are incredibly strong and durable, but sometimes they can fall out as a result of dental disease. When they do, they take the tooth root right along with them, which is an important part of your overall tooth's structure. With dental implants, we replace both the root and the crown, ensuring a comprehensive approach to long-lasting tooth replacement. Once the implant is placed, you won't even be able to recognize the difference between your natural and implant tooth!
The Dental Implant Process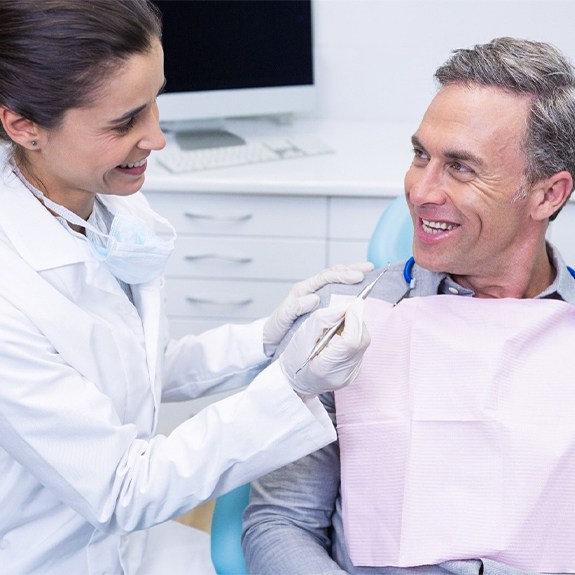 Our patients love their dental implants because of the newfound confidence it gives them to smile and chew the foods they enjoy. In order for treatment to be successful and your smile long-lasting, many steps are taken before, during, and after your actual surgery. Through multiple exams and detailed planning, we can make your smile whole again and help you enjoy your favorite foods with ease! Keep reading to learn how the process works ahead of your next visit with us.
Initial Dental Implant Consultation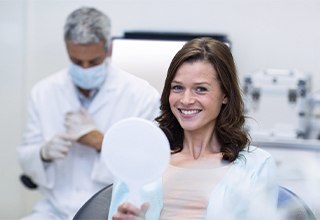 With a single implant, porcelain crown, and abutment to attach them together, we can restore your tooth to the absolute fullest. Once the implant has completed the healing process, we can begin designing your permanent crown. Dr. Johannsen always uses tooth-colored restorations to keep your smile looking as beautiful as it is functional.
Dental Implant Surgery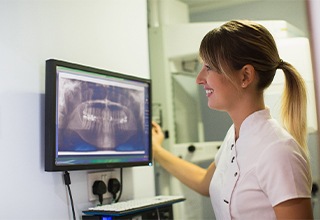 With a single implant, porcelain crown, and abutment to attach them together, we can restore your tooth to the absolute fullest. Once the implant has completed the healing process, we can begin designing your permanent crown. Dr. Johannsen always uses tooth-colored restorations to keep your smile looking as beautiful as it is functional.
Dental Implant Osseointegration & Abutment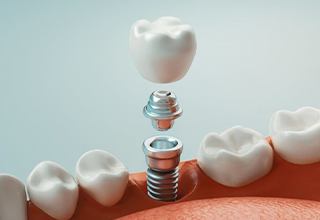 With a single implant, porcelain crown, and abutment to attach them together, we can restore your tooth to the absolute fullest. Once the implant has completed the healing process, we can begin designing your permanent crown. Dr. Johannsen always uses tooth-colored restorations to keep your smile looking as beautiful as it is functional.
Delivery of Dental Implant Restoration(s)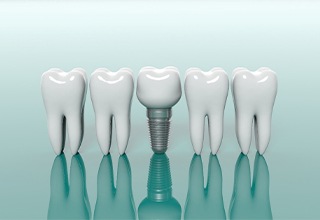 With a single implant, porcelain crown, and abutment to attach them together, we can restore your tooth to the absolute fullest. Once the implant has completed the healing process, we can begin designing your permanent crown. Dr. Johannsen always uses tooth-colored restorations to keep your smile looking as beautiful as it is functional.
Benefits of Dental Implants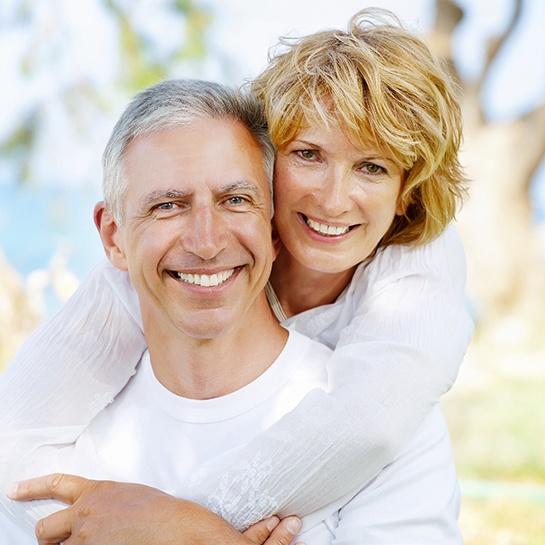 Whether you're comparing them to dentures or dental bridges, there is simply no other option that replaces teeth quite like dental implants. Not only do you replace your teeth to the fullest and secure the best looking tooth possible, but you can expect true longevity, durability, and functionality moving forward. Below, you can learn a bit more about the many benefits that dental implants have to offer in the short-term and long-term!
Day-to-Day Benefits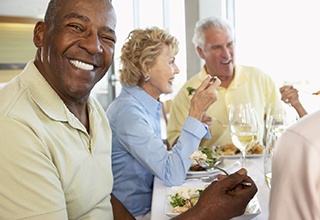 Improve your Biting Force: Eating the foods you enjoy is simple and straightforward, even if they are hard and crunchy. Apples, steak, nuts, breads, you name it; dental implants can easily break them down for you to enjoy.
Easy to Keep Clean: Simply practice daily brushing and flossing and make sure to visit our dental office every six months for a routine checkup. These habits are essential to ensuring your dental implants last for as long as possible.
Speak Clearly and Confidently: If you've ever worn dentures before, you know how hard it can be to get certain words out. Since dental implants are fixed in placed, there's no worry of your tooth replacement becoming loose in the middle of a conversation with friends and family.
Health Benefits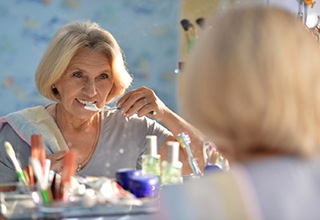 Keep your Jawbone's Shape Intact: Once dental implants are attached, they slowly fuse with the jawbone thanks to the biocompatibility of the titanium post. Once fully integrated, it begins to stimulate your bone tissue, especially when chewing. This prevents breakdown of the jawbone, which would typically cause changes in your jaw shape.
Enhance Your Overall Health: Having a complete set of teeth makes it much easier for you to get a balanced diet and expand your nutrition. That means dental implants can actually do big favors for your long-term overall health, not just the health of your smile.
Stop Neighboring Teeth from Shifting: Teeth will begin to shift out of place when tooth loss occurs, resulting in major changes to your bite. By placing a dental implant, you stop this phenomenon in its tracks and keep your bite even, reducing the chance that you'll develop issues with your jaw joints later.
Long-Term Benefits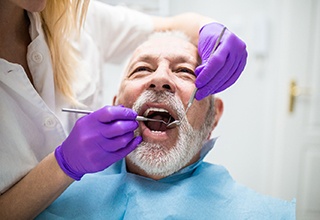 High Success Rate: Dental implants have a 95 percent success rate, even after 10 years of use! This makes them an incredibly reliable tooth replacement option, especially if you want to rebuild an entire arch.
Maintain a Youthful Appearance: Tooth loss causes multiple side effects that you may not have considered before. One of the most common is facial sagging and hollowing of the cheeks. If you want to maintain a youthful appearance to the fullest extent, dental implants are a much more appropriate solution for tooth loss over dentures.
Cost-Effective: Because of their longevity, dental implants are a fantastic investment for replacing teeth, especially compared to dentures or dental bridges. With a lifespan reaching 30+ years on average, you're less likely to have to spend money to replace them as often as traditional solutions.
Who Dental Implants Can Help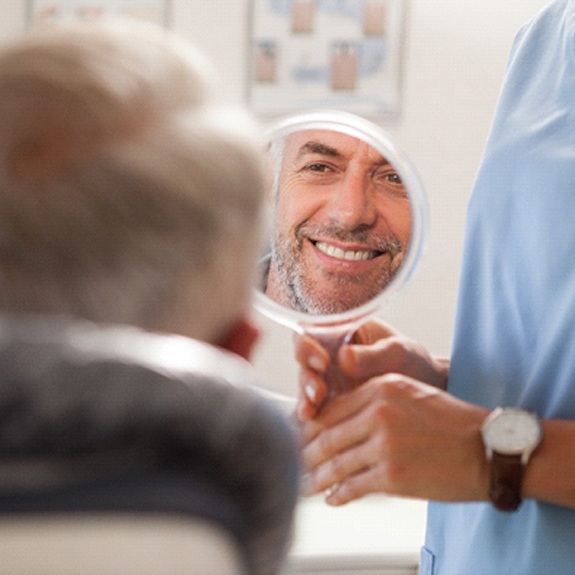 While we do recommend dental implants to our patients whenever we can, we also want to emphasize the importance of considering your options carefully before deciding that a given procedure is right for you. Dental implants can be used to replace any number of teeth, and if you set up a consultation at our office, we can determine whether or not you're a good candidate for the procedure and put together a treatment plan based on what your smile needs.
Who Is a Good Candidate for Dental Implants?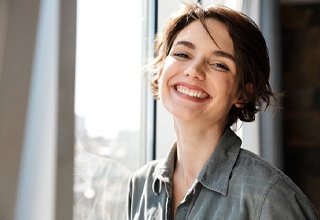 Most healthy adults can get dental implants, although some might need some preliminary work done first. You can be considered a candidate for the procedure if you meet these criteria:
A Healthy Body: Dental implant placement is a surgical process, which means you need to be in good enough health overall that your body can recover properly after the procedure.
A Healthy Mouth: Gum disease is a leading cause of dental implant failure, so if there's any sort of infection in your gums, we need to treat it first so that it doesn't interfere with the success of your treatment.
A Strong Jawbone: In order to support dental implants, your jawbone needs to meet a certain level of jaw density. Bone grafting may be needed if there's not currently enough bone in the jaw.
Once your candidacy is confirmed, we can figure out what kind of dental implant treatment is best for you based on how many teeth you need to have replaced.
Missing One Tooth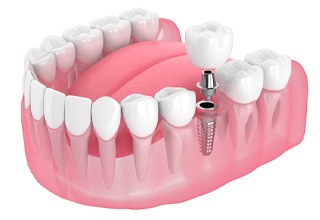 When you've lost one tooth, a single dental implant is all that you need to replace it. We'll wait for the implant to join with the jawbone before we top it with a dental crown. Compared to a dental bridge (the more traditional option for replacing a single tooth), an implant topped with a crown is much sturdier and will last much longer. It's also more conservative since it can be placed without removing enamel from your other teeth.
Missing Multiple Teeth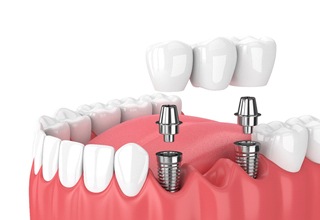 Dental implants can be used in different ways to replace multiple teeth at once. It largely depends on how many teeth are missing and where they're located. In the case of three or more consecutive missing teeth, we can use a pair of dental implants to support a dental bridge. However, if there's more than one gap in your mouth, we can instead attach a partial denture to a carefully chosen number of dental implants.
Missing All Teeth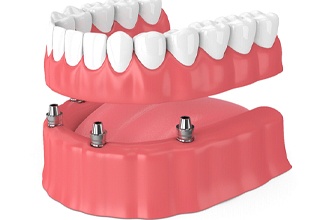 We can use four or six dental implants and a full denture to replace an entire row of teeth with a sturdy prosthetic that can be used to chew virtually any food. Implant dentures are not prone to slipping the way traditional dentures are, and when they're permanently attached to dental implants, it's possible to brush and floss them as if they were your original teeth.
Understanding the Cost of Dental Implants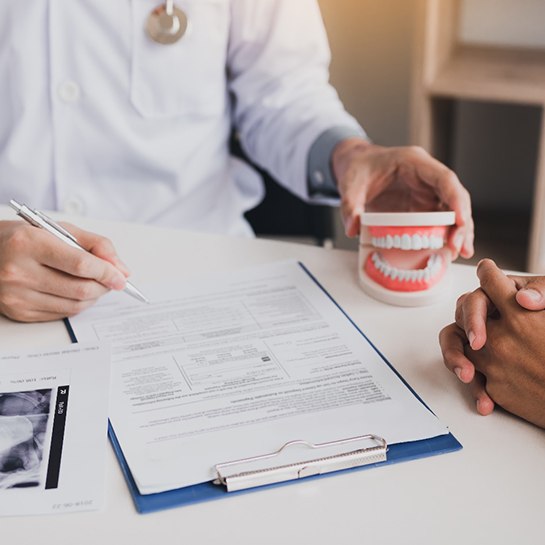 Are you put off by the cost of dental implants? Keep in mind that they have the most cost-effective price thanks to their longevity and the fact that treatment does not involve modifying additional teeth. In a way, you truly get what you pay for when you choose to replace teeth in this way. While the cost of your treatment will vary on factors like the number of implants placed and whether or not you need preparatory treatments to make them viable, Dr. Novak and Dr. Johannsen will help build a treatment plan that fits your budget. If you're ready to get rid of the gaps in your smile for good, give our dental office a call!
Preliminary Treatments & Dental Implant Surgery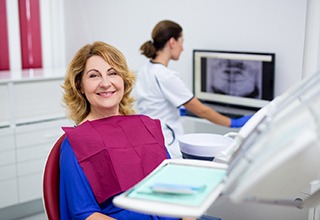 In some cases, preparatory treatment may be necessary, especially if there is dental disease already present. For example, gum disease therapy to treat an infection or decayed teeth that need removal will increase the total cost.
In addition, surgery carries its own cost and can increase or decrease depending on the number of implants that need to be placed to rebuild your smile. Since we perform the entire procedure in-house, your fees will be more compact overall, rather than spread across different offices.
The Parts of Your Dental Implant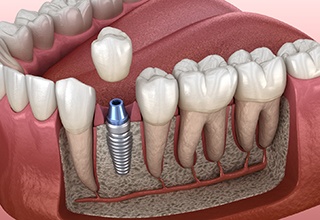 The more implants you need, the higher the cost of materials will be to replace your teeth. This includes materials like titanium, which make up the root portion of your dental implant. They can also vary in cost depending on who makes them and the models they provide. Our office is happy to go over where we receive our dental implants from and why you can have confidence in their ability to remain healthy following your surgery.
If you need a more complex restoration to make your smile complete, the more expensive the overall cost of your treatment will be. For example, a single crown placed on one dental implant will be substantially more affordable compared to a bridge attached to a pair of dental implants or a denture attached to a series of dental implants throughout the mouth. Our restorations are designed to not only last, but look incredibly natural, meaning no one but you and our office will know you had dental implants placed.
How Dental Implants Can Save You Money in the Long Run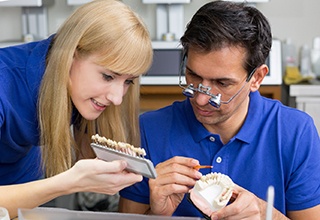 Patients who are on a budget may be tempted to opt for traditional dentures or dental bridges because they're more affordable. However, they can cost you much more in the long run. Even though dental implants have a higher upfront cost, they pay themselves off! Since they're inserted into the jawbone, you won't need to worry about replacing or readjusting them every few years. Also, it's easier to keep your smile healthy because all you have to do is care for your implants as you would natural teeth. Studies have revealed that good oral health can help lower your risk of systemic issues (i.e., gum disease, decay, jawbone deterioration) and the costs of addressing them.
Does My Dental Insurance Cover Dental Implants?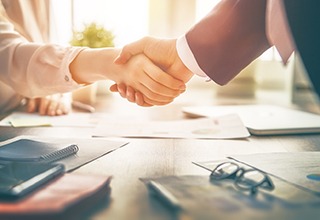 Dental insurance is generally not used for dental implants because insurance providers don't usually offer coverage. However, there are some exceptions when it comes to the treatments necessary to make dental implants viable. We're happy to go over them in greater detail as we have years of experience maximizing insurance benefits for patients. Keep in mind that if phases of your treatment are covered, it will only be at a specific percentage.
Making Dental Implants Affordable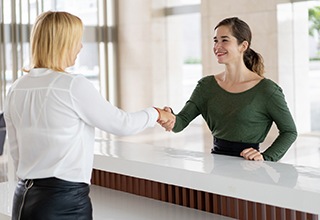 Don't have dental insurance? You can still make your tooth replacement with dental implants affordable with the help of other financing options. This includes CareCredit, which allows patients to pay for treatments over several months, typically with little-to-zero interest attached to these installments. That means fitting even the more expensive treatments into a tight budget can be possible.
Alternatively, enrolling in our Beacon Dentistry of Weatherford Savings Plan is a great way to save on care, especially if you don't have dental insurance. Not only are you guaranteed a specific set of treatments when you sign up, but you can expect discounts on many other treatments, including dental implants and implant-related services!
Dental Implants Post-Op Instructions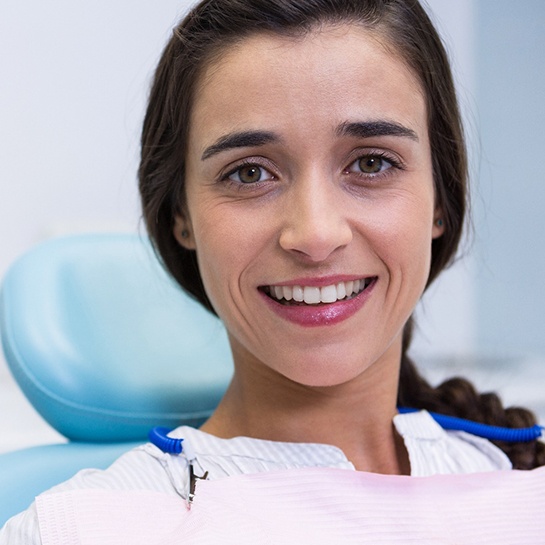 After your implants have been placed, our team will provide you with a list of instructions to help your mouth recover as quickly and smoothly as possible. Generally speaking, you should be able to return to your regular routine after a few days of rest, although it will still take a while for your mouth to heal completely. Below are some general instructions that all patients should follow after they've received dental implants.
What to Do Directly After Dental Implant Surgery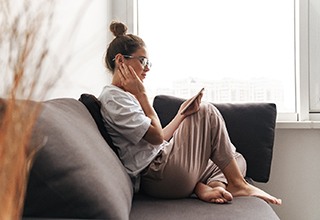 On the first day of recovery, your main focus should be on protecting the blood clot that forms around the implant site. This blood clot will help ensure a smooth healing process, but if it becomes dislodged it could cause a very painful dry socket. To keep the blood clot in place, do your best to avoid touching it with your fingers or tongue. Also, do not spit during the first day; if you have excess saliva, either use tissues or swallow. Finally, avoid smoking or using straws.
Common Side Effects When Recovering from Dental Implant Placement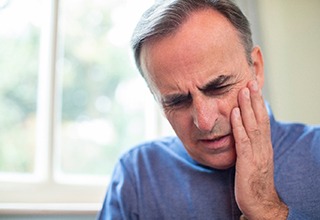 Intermittent bleeding, swelling, and general discomfort are all common symptoms that you might experience for a few days after implant surgery, and they can all be easily managed:
Apply light pressure with a piece of gauze to stop any bleeding.
Use a warm or cold compress to reduce your swelling.
Take pain medication if you're experiencing discomfort.
All of these symptoms will gradually fade on their own as your mouth recovers. Please call us immediately if they last longer than they should or seem to be growing more severe.
Your Diet After Dental Implant Surgery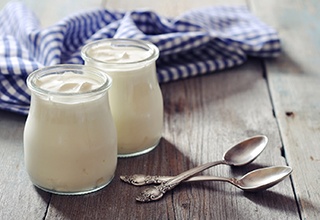 While your mouth is recovering, you should plan on eating only soft foods that require little to no chewing. Mashed potatoes, yogurt, scrambled eggs, and pasta can all be excellent choices. You can also have soup during your recovery, but make sure it isn't too hot.
You'll be able to return to a normal diet once your mouth feels up to it. That said, you should continue to limit your exposure to tough or crunchy foods. Also, do not chew directly on the implant site; this puts excessive pressure on the posts and can cause osseointegration to fail.
Post-Op Health & Oral Hygiene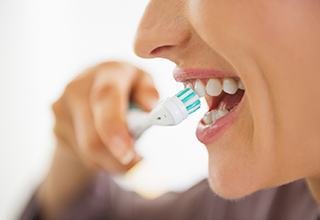 It's important to keep your mouth clean and free of bacteria while you're recovering. You can brush as you usually would, but be careful around the surgical sites; you don't want to disturb the implant posts or dislodge the blood clot. It's also a good idea to rinse your mouth with salt water two or three times a day.
What to Do After Your New Teeth Are Attached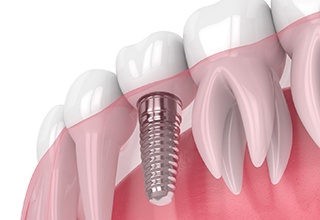 The hard part is over once your mouth fully recovers from implant surgery. When the final restoration is attached to the implant posts, you may experience some temporary sensitivity that can be controlled with over-the-counter pain medication. There isn't any swelling or bleeding to worry about, and you'll be able to continue with your day as normal immediately after your appointment.
Dental Implant Technology
Dental implant surgery has a very high success rate, and a large reason for that is the fact that dentists have incorporated the latest technology into the process. When surgically placing implants in the jaw, we need to be as precise as possible, and that means using state of the art tools to plan and perform the procedure. Below are some examples of technology that we use to enhance the dental implant process so that you can receive your new teeth without unnecessary complications.
3D Cone Beam Imaging/3D CT Scanning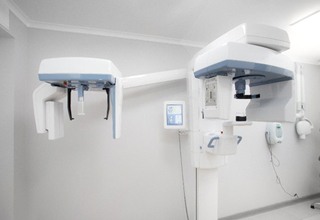 We need to take pictures of your jawbone before we can start planning the implant process, but regular X-rays won't necessarily give us all of the information that we need. Instead, we can take a full scan of the inside of your mouth using our 3D cone beam computed tomography (CBCT) imaging machine. The scanner rotates around your head and captures numerous images, which are eventually combined into a single 3D model. This lets us examine your dental structures, soft tissues, and other aspects of your mouth and jaw from various angles.
Cone beam imaging has many uses in dentistry, but it's particularly helpful as a means of evaluating the structure of the jaw while planning implant surgery. It allows us to identify potential obstacles – such as a nerve that's located near where the implant needs to be placed – so that we can work around them accordingly. As a result, implant surgery that utilizes cone beam imaging tends to be much more precise, and the treatment as a whole is more likely to succeed that if we relied on traditional X-rays alone.
Guided Dental Implant Surgery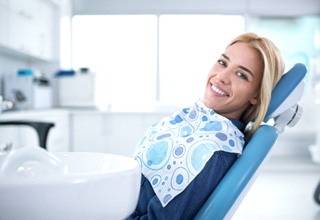 CBCT scans aren't just useful for treatment planning; they can also help the actual process of placing dental implants go more smoothly. For example, if you've lost all of the teeth in your upper or lower jaw, it may be difficult to tell exactly where the implant should be placed simply by looking. But with CBCT technology, we're able to create a computer-generated guide, giving us a clear visual of what the correct position for the implant is. This technology greatly improves the precision of implant surgery, which in turn reduces the discomfort, swelling, and bruising that you'll experience afterwards.
E4D Digital Impression System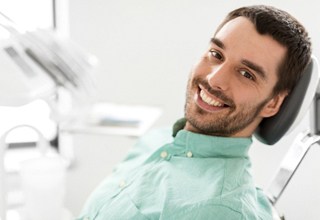 Once implants have been properly placed and the tissue around them has healed, we can take an impression of your mouth as it currently is so that we can make a restoration for your dental implants. But instead of making you bite down on some putty, we can simply scan your mouth with the E4D digital impression system. It will give us a virtual model of your mouth that allows us to create a restoration that closely matches the size, shape, and color of your natural teeth. Thanks to E4D, we can place dental crowns that are so lifelike most people won't be able to pick out which tooth is supported by an implant.
Maintaining & Caring for Your Dental Implants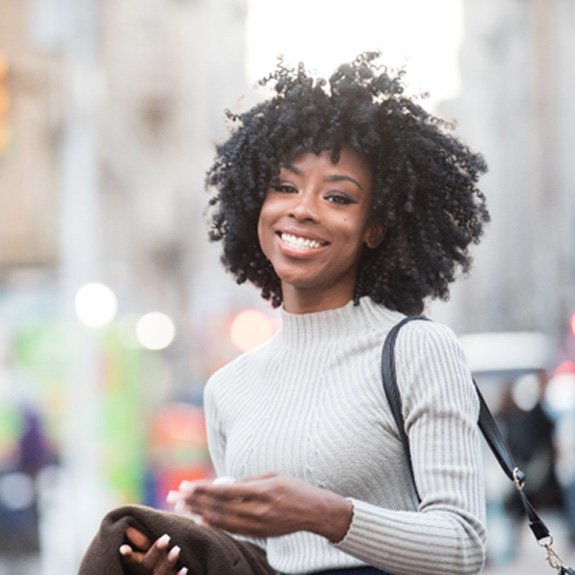 Many people are able to keep their dental implants for the rest of their lives, but in order for the implant posts to last that long, proper maintenance is required. Luckily, taking care of your new smile is not very difficult. In fact, many of the things you already do to protect your natural teeth can also benefit your dental implants! Below is a brief outline of the most important steps you need to take to help your implants last as long as possible.
Make Oral Hygiene a Priority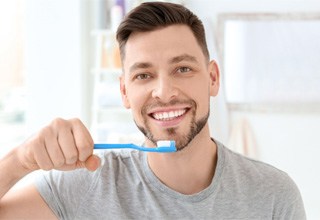 Poor oral hygiene can lead to an infection of the gums, which can easily cause dental implant failure. You can protect the tissues holding your implants in place by brushing and flossing twice every day. Make sure that you're using a soft-bristled toothbrush and nonabrasive toothpaste that won't damage your implant restoration. If you need additional help keeping the bacteria in your mouth under control, add mouthwash to your routine.
Eat a Healthy Diet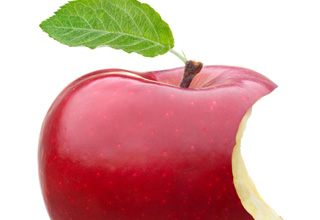 Dental implants make it possible to eat virtually anything you want. However, you still need to avoid eating too many sugary, hard, or sticky foods that can cause problems for your new teeth. Tailor your diet so that it contains more foods that are high in vitamin C and calcium; these nutrients can help you maintain a healthier mouth where your dental implants will be able to thrive in the long term. Talk to your dentist if you're not sure what kinds of foods are best for your implants.
Break Bad Habits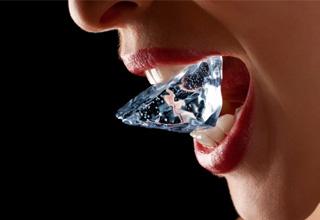 Maybe you occasionally find yourself biting your nails or chewing on the end of your pen without thinking about it. Or perhaps you sometimes crunch ice or hard candy. All of these habits have the potential to damage your implants over time, so it's important to identify and break them as soon as possible.
Protect Your Dental Implants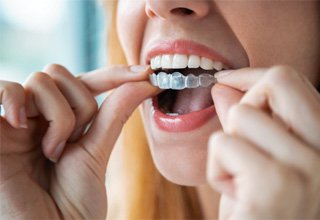 Dental implants are very strong and sturdy compared to other forms of tooth replacement. Nevertheless, they can still be damaged if there's an accident involving your jaw. To lower the risk of your dental implants being broken, you should always wear a mouthguard whenever you play sports of any kind. (This includes low-contact sports, as there may still be a risk of suffering a blow to the mouth.)
Even if you're not an athlete, you could still benefit from getting a mouthguard if you grind your teeth at night. Frequent grinding can expose your dental implants to excessive wear and tear, but a mouthguard will help keep them safe.
Schedule Regular Dental Checkups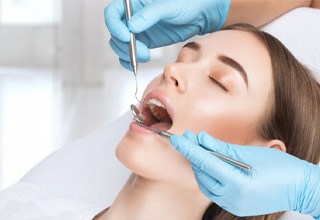 At your biannual dental checkups, we will examine your dental implants to ensure that they're in good shape. If there are any issues, we'll be able to catch them in their early stages so that they can be dealt with before they can lead to dental implant failure or other complications.
Dental Implant FAQs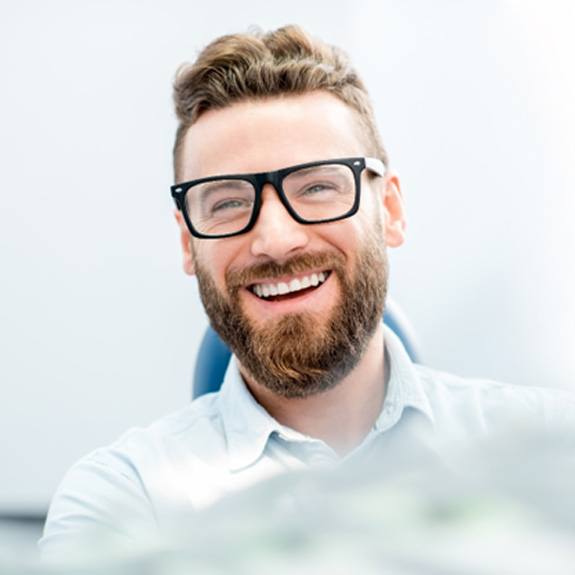 Planning on restoring your smile with dental implants in Weatherford? Although you know a bit more about the process, it's only natural to have a few questions and concerns before fully committing. To make finding answers as easy as possible, we've decided to respond to some frequently asked questions below. If you'd rather speak directly with our team, don't hesitate to give us a call! At Beacon Dentistry of Weatherford, we're happy to help in any way that we can to ensure you're as well-informed as possible.
How Long Do Dental Implants Last?
With an average lifespan of 30+ years, dental implants are known for their exceptional longevity. The best part is that maintaining them doesn't require any specialized cleaning products or complex oral hygiene routines. In fact, the same practices you use to preserve your natural teeth will suffice! All you need to do is remain diligent in your at-home oral care routine by brushing and flossing regularly.
Additionally, don't forget to schedule routine checkups and cleanings with our team. You should also steer clear of habits that can potentially chip or damage your implants, such as chewing on ice, smoking, or using your teeth as tools. By adhering to these simple guidelines, you can enjoy a radiant and long-lasting smile for years to come.
Does Getting Dental Implants Hurt?
Rest assured – dental implant treatment is designed to minimize any discomfort or pain. Before the procedure begins, your mouth will be numbed using a local anesthetic, ensuring you won't feel any pain during the process. Sedation dentistry will also likely be used to help lower your body's pain response.
While the surgery itself shouldn't be painful, it's normal to experience some soreness in your mouth for a few days afterward. To manage any discomfort, it is recommended that you take prescribed or over-the-counter pain medication as instructed. Applying cold compresses to the affected area can also provide relief.
What Can Cause Dental Implants to Fail?
Dental implants have a remarkable 95% success rate! However, it's important to be aware of the potential for implant failure
Peri-implantitis (a type of gum disease) and failed osseointegration (the fusion of the implant post to the jawbone) are the primary culprits. Additional factors such as chronic teeth grinding, tobacco use, and certain medications can increase the risk. During your consultation, we can provide you with tailored guidelines to minimize the chances of implant failure.
Is There Anything I Shouldn't Eat with Dental Implants?
One significant advantage of dental implants is their lack of dietary restrictions. While you recover, it's recommended that you stick to soft foods like yogurt and oatmeal. However, once you have healed, you can indulge in all your favorite foods! Just be sure to exercise caution with hard or sticky foods. Your dental implants can be susceptible to cracks, chips, and other damage.